Anniversary: 10 years' Ethenea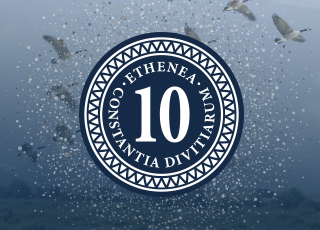 Munsbach, 10th of September 2020 – Ethenea Independent Investors S.A. is celebrating its 10th anniversary. In September 2010, Luca Pesarini and Arnoldo Valsangiacomo founded the investment company in order to optimally manage the three existing Ethna Funds. "We are grateful for the trust our investors have placed in us and proud of the progress we have made together with them", says Arnoldo Valsangiacomo. "We want to continue to help our clients achieve their investment objectives and look forward to the coming years."
It is already 18 years since Pesarini and Valsangiacomo launched their first joint fund: the Ethna-Aktiv. "When we founded the Ethna-Aktiv in 2002, there was a mood of tremendous of upheaval on the markets after 9/11 and the bursting of the dotcom bubble," recalls Pesarini. "At that time, multi-asset funds were barely represented. That's where we saw our opportunity." The aim of the fund is to preserve the assets entrusted to the Portfolio Managers and to continuously increase them over the long term with the lowest possible risks and volatility. This approach quickly proved so successful and popular that Pesarini and Valsangiacomo launched the Ethna-Defensiv in 2007 and the Ethna-Dynamisch in 2009 using the same principles. One year later, they founded Ethenea to focus solely on the management of the three funds.
Since then the company has grown along with the success of the funds. A team of experts manages the three Ethna Funds together with the two founders, who are still active Portfolio Managers at Ethenea. Despite their different focus in terms of asset classes and risk profiles, all three Ethna Funds have one thing in common - an actively and flexibly managed multi-asset approach that is free from benchmarks is in their DNA.
Looking ahead, the founders are convinced that their original approach is still as relevant as it was on that first day. "Our world is constantly in motion. The markets, products and sentiments change. In order to keep up with this, it is important that you also keep moving," says Luca Pesarini. "Flexibility is essential," adds Arnoldo Valsangiacomo. Both Portfolio Managers have always been characterised by their willingness to explore new paths and meet new challenges in an innovative way.
Please contact us at any time if you have questions or suggestions.
ETHENEA Independent Investors S.A.
16, rue Gabriel Lippmann · 5365 Munsbach
Phone +352 276 921-0 · Fax +352 276 921-1099
info@ethenea.com · ethenea.com