Is human behaviour a danger for investors?
"The investor's chief problem – even his worst enemy – is likely to be himself."
(Benjamin Graham)


This timeless quote from Benjamin Graham, the father of value investing, has lost none of its veracity even decades after his death. Israeli-American psychologists Daniel Kahneman and Amos Tversky made a huge contribution to research into the psychological processes at play here. The pair were instrumental in defining the concept of behavioural finance. Daniel Kahneman neatly summed up the results thus:


"What gets in the way of clear thinking is that we have intuitive views of almost everything."
(Daniel Kahneman)


The buzzword "behavioural finance" and the results of both researchers on the subject of biases in decision-making are now an integral part of portfolio manager training and have also made it into the terminology of investment. Confronted with the day-to-day ups and downs of the stock market and the responsibility for investors' assets entrusted to us, we as Portfolio Managers are faced with the challenge of dealing with biases almost on a daily basis.
But what do these biases actually mean and what kinds concern us as investors?
In general, we speak of bias when a decision is made on the basis of a preconception or a preference. Figuratively speaking, all our decisions are run through individual filters. These may be influenced by experience, judgement, social norms, assumptions and academic knowledge, to name a few. There are essentially two different kinds of bias: cognitive and emotional.
Cognitive biases in decision-making are based on established concepts. Whether they are accurate or not is irrelevant. The inaccuracies are based either on statistical errors or creep in during information processing or storage.
Then there is emotional bias, which typically occurs spontaneously based on the personal feelings of an individual at the time a decision is made.
Cognitive biases are easier to correct than emotional biases. Because emotional biases are based on feelings, they are harder to avoid.
Two of the most well-known biases are confirmation bias and hindsight bias.
Confirmation bias is the tendency to select or interpret information in a way that confirms your own opinion. Independent of the reasons for this behaviour – which can be multiple and include conservation of resources and boosting self-confidence – confirmation bias leads to anything from a very one-sided assimilation of information to a complete denial of opposing views and thus to the unconscious reinforcement and confirmation of your own pre-existing view. This bias results in poor decisions because not all available arguments are weighed up. Hindsight bias results in overconfidence in your ability to predict future events based on the knowledge of the outcome of past events. This in turn can lead to poor decisions or – to put it in the investment context – to ill-advised risk-taking because the circumstances and reasons for the event being predicted were not adequately considered.
Overconfidence bias, which has a similar effect but a different cause, is another example of emotional bias. Even when not in the extreme (hubris), this bias generally results in decision-makers overestimating their ability to predict due to previous successes or special niche knowledge. The final bias we are going to look at here is another example of emotional bias and, as a typical pattern of investor behaviour, plays a key role in influencing investment decisions. Loss aversion bias leads investors to make demonstrably irrational decisions; i.e. decisions that don't correspond with expected utility. In their Prospect Theory, Kahneman and Tversky were able to demonstrate using a virtual value function that, simply put, losses are given more weight than equivalent gains. This means that investors show risk-aversion when they are up, taking profits too early, and they show risk-tolerance when they are down, letting losses run too long. As the following graph shows, the individual utility of a EUR 100 reduction in loss is greater than a EUR 100 increase in gain. Although these amount to exactly the same from a financial point of view, looking at it from a loss or gain perspective results in the above pattern of behaviour because the utility gain from a reduction in loss is perceived as being higher.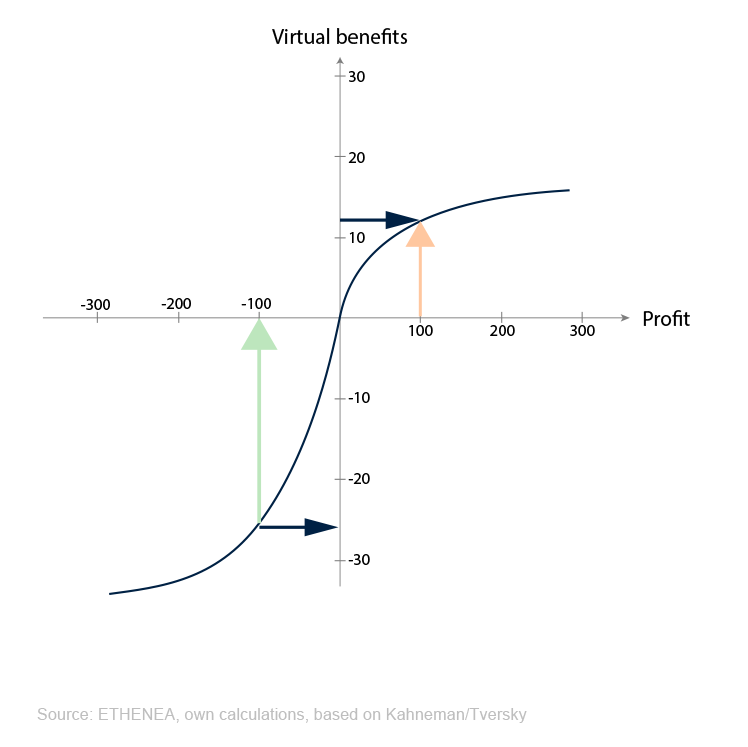 The list of biases that influence investors is of course quite a bit longer, but the four described here should be enough to illustrate how important it is to identify and understand them in order to create better investment processes in the end.Without describing our investment process in detail here, we take the following measures to either completely avoid or at least minimise the various biases.
As early as the research stage we expressly undertake to use different sources, seek out opposing views and compare and contrast these in the documentation.
Obvious though it may seem, even team diversity will break down shared patterns of thinking and behaviour and shed light on problems from other perspectives.
Setting and, of course, following clear rules on position sizes, risk budgets, diversification guidelines and divestment targets (limits on loss and gain realisation) is an integral part of every investment decision. The original decision-maker is not responsible for measuring and controlling these guidelines and there is an adequate escalation process in place for breaches.
In order to minimise the danger of subjective and possibly biased decisions, not only are "objective" tools used to calculate absolute and relative values and key technical indicators but the individual risk-reward ratio is also clarified for every single investment decision.
Adequate documentation forms the basis for internal discussion and decision-making and also reduces the danger of individual bias. Naturally, this also helps traceability and facilitates later comparison of targets with performance.
We minimise emotional attachment to an investment by rotating responsibilities at the analysis level and mandating that decisions are to be made jointly by the Lead Portfolio Managers. The scrutiny and consideration of the rationale for the investment required for this reduces bias at individual level.
While all these measures help improve our investment process by minimising various biases, our investment philosophy also plays a key role. The reason for our goal of limiting losses in difficult market phases is twofold. Of course, from a purely mathematical point of view, smaller losses mean there is less catching up to be done and anybody who has dealt with the multiplicative linking of returns will be familiar with the associated asymmetry. But, more crucially, our goal forces us to divest ourselves of loss-making positions in time, creating a mechanism that helps avoid the aforementioned loss aversion.
To readers who would like to learn more about the subject, I can recommend Daniel Kahneman's book "Thinking, Fast and Slow" as a entertaining read for a general audience.
Portfolio Manager Update & Fund positioning
Ethna-DEFENSIV
Having risen to 1.75% at the end of the first quarter, the fresh sharp fall in yields on 10-year US Treasuries to almost 1.25% came as a surprise. The decline was seen as a reaction to concern about the increasing spread of coronavirus variants. Three further factors are likely to have caused additional downward pressure: 1) Institutional investors who were banking on interest rates rising had to cover their short positions again. 2) The yield advantage over European bonds continues to make US bonds attractive to foreign investors, even after hedging costs. 3) The Federal Reserve's monthly bond purchases of USD 120 billion are providing Treasuries with additional support.
We consider it likely that yields will stay at their current level in the short-to-medium term. In light of the sustained economic recovery and rising inflation, however, we expect yields to be back to higher levels towards the end of the year. Yields between 1.5% and 2.0% are by all means possible but in real terms – i.e. after inflation – they would still be in negative territory. In the eurozone, yields also fell slightly, albeit to a lesser extent than in the US. 10-year German Bunds are currently yielding around 0.45% compared with 0.20% in the previous month, while yields on Italian BTPs fell around 20 basis points to a reasonable 0.6%.
Corporate bonds were largely unaffected by the increased volatility in equity markets in July (VIX almost 20% higher than in June). And it's no wonder, since many companies are actually reporting better results in the current reporting season than before the coronavirus crisis. The technology sector in particular is doing very well and even managed to far exceed the expectations of Wall Street, which were high as it was. But even the aviation sector, which was particularly hard hit by the coronavirus crisis, seems to be recovering slowly, and the number of passengers is rebounding over the summer holidays. Accordingly, investment grade bonds denominated in euros and US dollars were largely stable. Only the high-yield bond market, and the CCC rating segment in particular, lost some ground in July. The average spread on US high yield corporate bonds rose by 26 basis points.
As expected, there was little to report on the central bank front in July. Ahead of its meeting, the European Central Bank changed its inflation goal to a symmetric target of 2% from "below, but close to, 2%". This gives the central bank greater flexibility and allows for a short-term inflation overshoot without having to rein in monetary policy at the same time. On the other side of the Atlantic, the Federal Reserve reasserted its assumption that high inflation is temporary and that the economy still has a long road to recovery ahead, given that unemployment is still much higher than in February 2020. The upcoming central bank meetings will be more interesting. In particular, the meeting in Jackson Hole in August or rather the subsequent Fed meeting in September are regarded as strong candidates for when a reduction in monetary policy stimuli will be announced. The new policy could then be implemented towards the end of the year, perhaps with the reduction of mortgage-backed bonds being the first step.
The Ethna-DEFENSIV (T class) posted a positive performance of 0.78% in July. The bond portfolio benefited from lower yields and contributed the most to performance, with gold and our equity ETFs also making a positive contribution. With equity markets having performed very well in recent months, we again reduced the equity allocation slightly to 7.3% and, in turn, increased the gold allocation to 5%. Since the beginning of the year, the Ethna-DEFENSIV is up 1.52%.
Ethna-AKTIV
The good mood on stock markets worldwide continued in July, except for the Far East for political reasons. While the market breadth has shrunk, the extremely strong reporting season effectively brought about a relative improvement in the usual valuation parameters, such as the price-earnings ratio or the price-sales ratio for equities. However, it must still be said that in the ongoing low-interest environment, these valuations are justified to a certain extent by comparison with the alternatives in the bond segment. With inflation higher than expected on both sides of the Atlantic, statements from central banks were eagerly awaited. However, there wasn't much to be heard from either the Fed or the ECB about an imminent change in their policy, which underscores the narrative of inflation being temporary. So far, the interest rate market is following this logic and the trend is towards lower interest rates despite rising consumer and producer prices. In essence, we consider the transition from the early to the middle phase of the economic cycle to be a logical explanation both for the movement in interest rates and for the recent change in preference within equities.
In terms of the Ethna-AKTIV's strategy, this assessment validates our equity-focused positioning. Only on a tactical level have we reduced our equity allocation from the maximum of 49% to less than 40% ahead of the two historically weakest months (August and September) and given the price gains that have already been made. On the bond front, we took advantage of the movement in interest rates to sell the 10% allocation to US Treasuries at a profit. Apart from minor adjustments to individual securities, there were no major changes to the portfolio exposure. Overall, these transactions resulted in a relatively high cash allocation, but this will only be for a limited time and at least some of it is earmarked for opportunities that arise in equities.
Looking ahead to the coming month, in addition to the ongoing reporting season the meeting of central bankers in Jackson Hole will probably be the event with the biggest impact on markets.
Ethna-DYNAMISCH
A certain degree of uncertainty always underlies capital market activities. Every decision, from the allocation of various asset classes through to the purchase/sale of individual securities can only ever be taken after weighing up the expected opportunities against the potential risks. As a rule, there will always be opportunities alongside risks. But their nature and the relationship between them are constantly changing. In addition, every market participant not only has their own perspective on the opportunities and risks but also their own risk tolerance. Within the Ethna-DYNAMISCH, our approach to this ranges from balanced to offensive. We try to actively avoid the biggest risks or at least effectively limit their potential impact. At the same time, we keep our eyes open for opportunities, in the knowledge that investors on average are duly rewarded for taking certain risks.
At the moment, navigating the opportunities and risks in capital markets is a balancing act. Bargains are certainly few and far between. On the other hand, we are definitely seeing excesses. The large middle ground between them holds little prospect of big gains but then again it also harbours little risk to speak of. It's a sobering thought but it's simply the truth. We just have to make the best of it. In the current transition from early stage of the upturn to the new mid-cycle normality ahead of us, nervousness in markets is steadily growing and with it the susceptibility to setbacks. Anticipating this, we had already reduced the equity allocation somewhat and we recently further expanded the hedging components slightly. In July, things definitely got a bit rougher in markets but significant setbacks were confined to individual investment themes or days. For example, Chinese equities felt the full force of its government's regulatory crackdown. Rising COVID-19 cases impacted mainly those sectors relying on physical reopening, but also fuelled general fears about growth.
In the case of sovereign bonds, this mix led to sharp falls in yields and conversely to higher prices. We took the opportunity and sold the long-dated US Treasuries left in the portfolio in their entirety. Economic growth may without doubt be at its peak at the moment but we still consider the general trajectory to be sharply upwards. The first investments in two new portfolio positions must also be seen in this context. The two, both Paycom Software and Paylocity, are up-and-coming companies located in the US, which are rapidly snatching market share away from the long-established giants in their sector with cloud-based payroll and HR management solutions. Despite strong growth, both are already profitable and regularly win awards for their products and as top employers. In addition to this structural growth, the current upturn in the US labour market is presenting additional opportunities, as the companies are also paid based on the number of employees on the payroll and the employment rate remains well below pre-crisis level. Since the companies are neck-and-neck in terms of quality and valuation but their target customer base is partly complementary, we simply added both to the portfolio, each with a weighting of 1% for a start. In addition, we stocked up on some existing equities whose risk-reward ratio had become attractive (e.g. Vontier and Amgen), while we reduced a few other positions and kept the equity allocation stable on balance.
Staying alert and continuing the balancing act is still the order of the day in the Ethna-DYNAMISCH in order to ensure that the risks we have to take are also rewarded with attractive returns in the future.
HESPER FUND - Global Solutions (*)
In July, the equity markets were able to overcome fears related to the worldwide spread of the Delta variant of Covid-19. The equity markets were ultimately supported by strong quarterly earnings and a further contraction of bond yields in advanced economies. Bond yields continued their downward trend due to concerns about the spread of the Delta variant and a slowdown in the global pace of economic recovery. In China, however, there was effectively carnage on the stock markets, as a regulatory crackdown on technology and education companies sent both the Chinese and the Hong Kong stock markets into a tailspin. The strength of the US dollar over the month was reversed last Wednesday after the Fed released a statement that was less hawkish than expected. The US dollar ended the month close to 1.19 against the EUR. Cryptocurrencies rebounded nicely after Bitcoin held key support levels, and the bull run of many commodities continued.
In July, the main US stock indices moved higher to close the month near their recent all-time highs. For the month, the S&P 500 rose 2.3%, the Dow Jones Industrial Average (DIJA) went up by 1.3%, and the Nasdaq Composite increased by 1.2%. Conversely, small caps remained weak, as measured by the Russell 2000's decrease of 3.6%, which meant the index is now 5.7% lower than its mid-May historic peak.
In Europe, the Euro Stoxx 50 index edged 0.6% higher (an increase of 0.7% when calculated in USD), while, in the UK, the FTSE 100 edged -0.1% lower (+0.5% in USD). The Swiss Market Index maintained last month's momentum despite a strong Swiss Franc, hitting a new historic peak and rising by 1.5% (+3.6% in dollar terms) over the month.
Asian markets lagged again, with the Shanghai Shenzhen CSI 300 index tanking by 7.9% (-8% in USD terms), while the Hang Seng index in Hong Kong plunged by 9.9%. Beijing's move to assert greater control over technology companies rattled the stock markets, wiping out hundreds of billions in market capitalisation.
Despite above-target inflation, the Fed and the ECB are continuing to keep rates at historic lows and are keeping their asset purchase programmes unchanged at an elevated pace. Although the large-scale stimulus will not last forever, central bankers are convinced that economies still need significant policy support in order to regain a stronger footing.
The HESPER FUND – Global Solutions continues to operate under the scenario of a world recovery supported by accommodative monetary and fiscal policies and vaccination roll-outs. As we are convinced that the main central banks will follow an extremely careful and gradual path before announcing any sort of tapering or policy change, the fund continues to be exposed to risk assets.
Currently the fund is long equities, high yield bonds and commodities. A positive economic outlook and a slow and gradual monetary normalisation in the US should progressively lead to moderately higher yields, despite fears of a slowdown. Given the worsening mood, due to the seemingly never-ending pandemic, our short positions on 10-year US Treasuries have been trimmed significantly. However, exposure to the various asset classes is monitored and calibrated permanently to adjust to market sentiment and changes in the macroeconomic baseline scenario.
On the currency front, the fund increased its long USD exposure up to 32%. Given the reversal of the reflation trade, we have decided to close our 9% exposure to the Norwegian krone. The fund has also increased its long Swiss Franc exposure to 10.9%.
In July, the HESPER FUND - Global Solutions EUR T-6 rose 0.86%. Year-to-date performance was 5.89%. Over the last 12 months, the fund has gained 8.22%. Volatility has remained stable and low at 6.7%, retaining an interesting risk/reward profile.
*The HESPER FUND – Global Solutions is currently only authorised for distribution in Germany, Luxembourg, France, and Switzerland.
Figure 2: Portfolio structure* of the Ethna-DEFENSIV

Figure 3: Portfolio structure* of the Ethna-AKTIV

Figure 4: Portfolio structure* of the Ethna-DYNAMISCH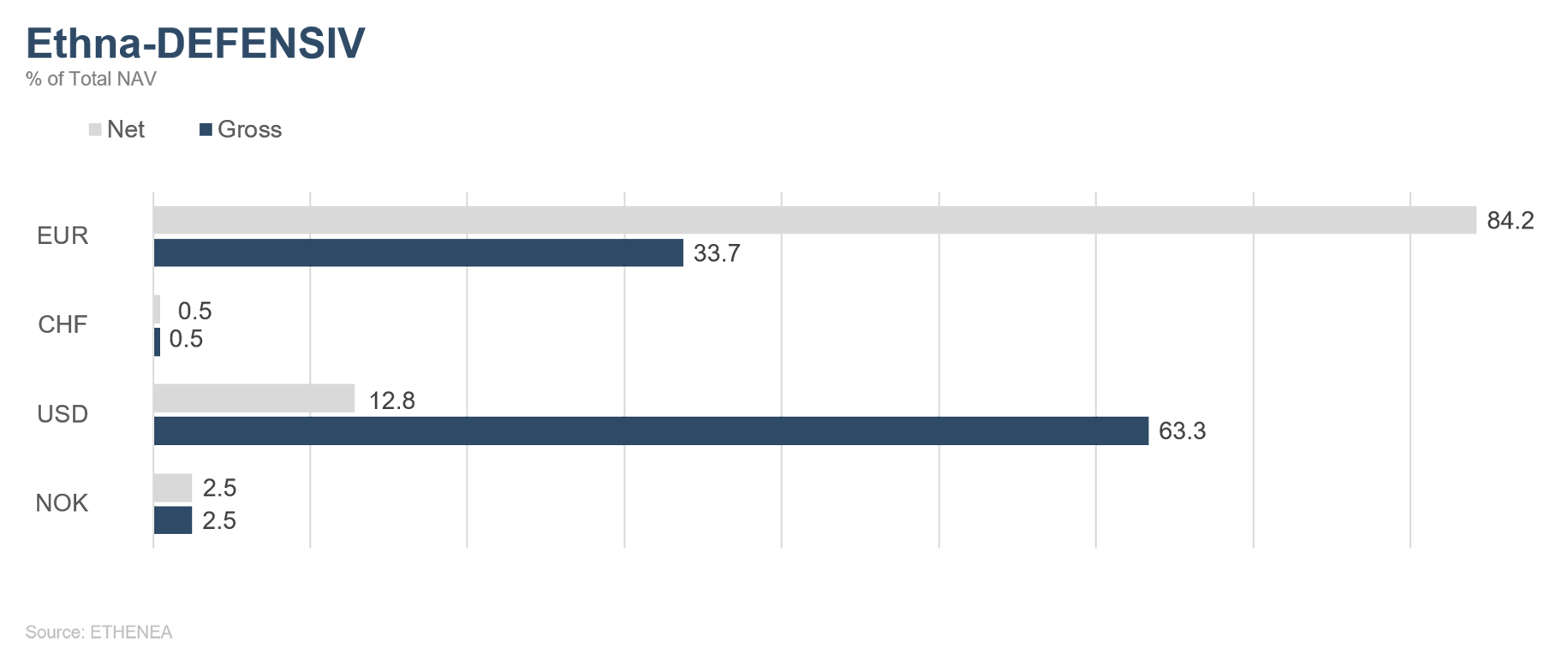 Figure 5: Portfolio composition of the Ethna-DEFENSIV by currency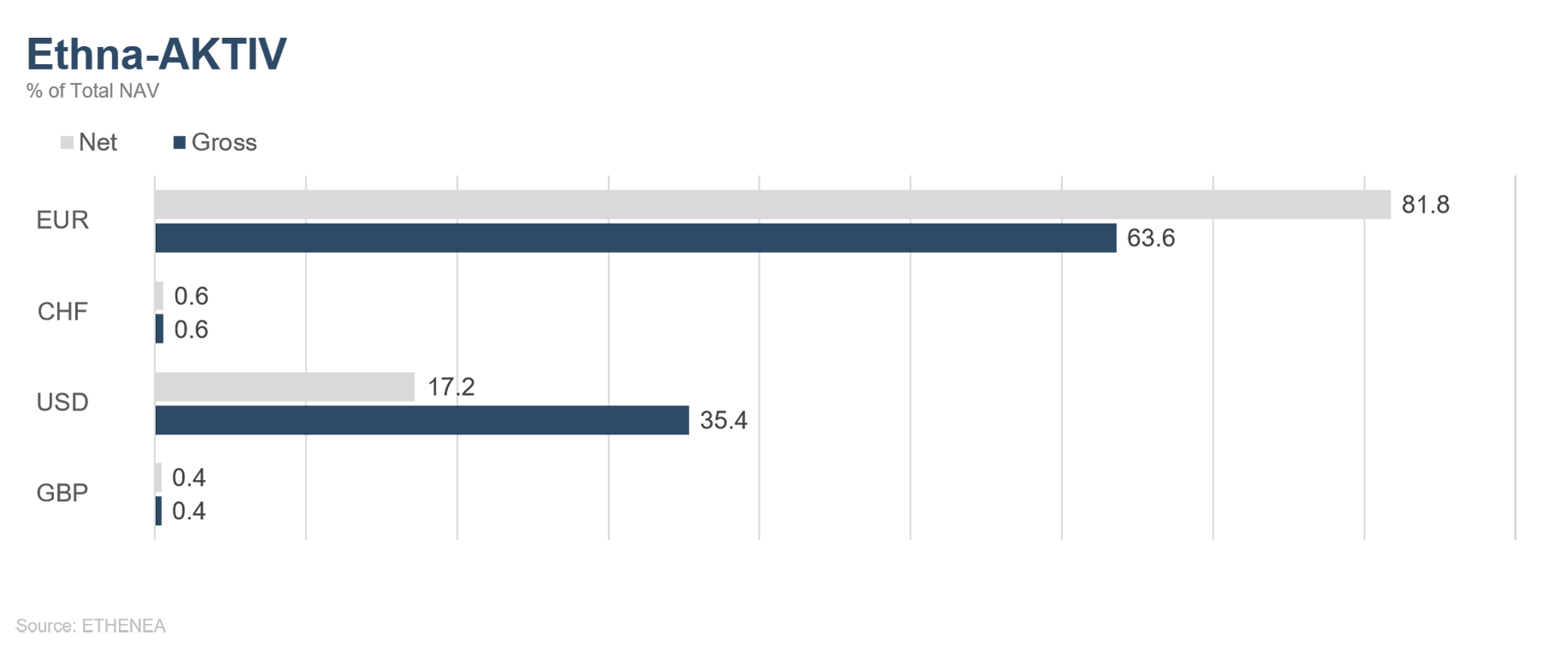 Figure 6: Portfolio composition of the Ethna-AKTIV by currency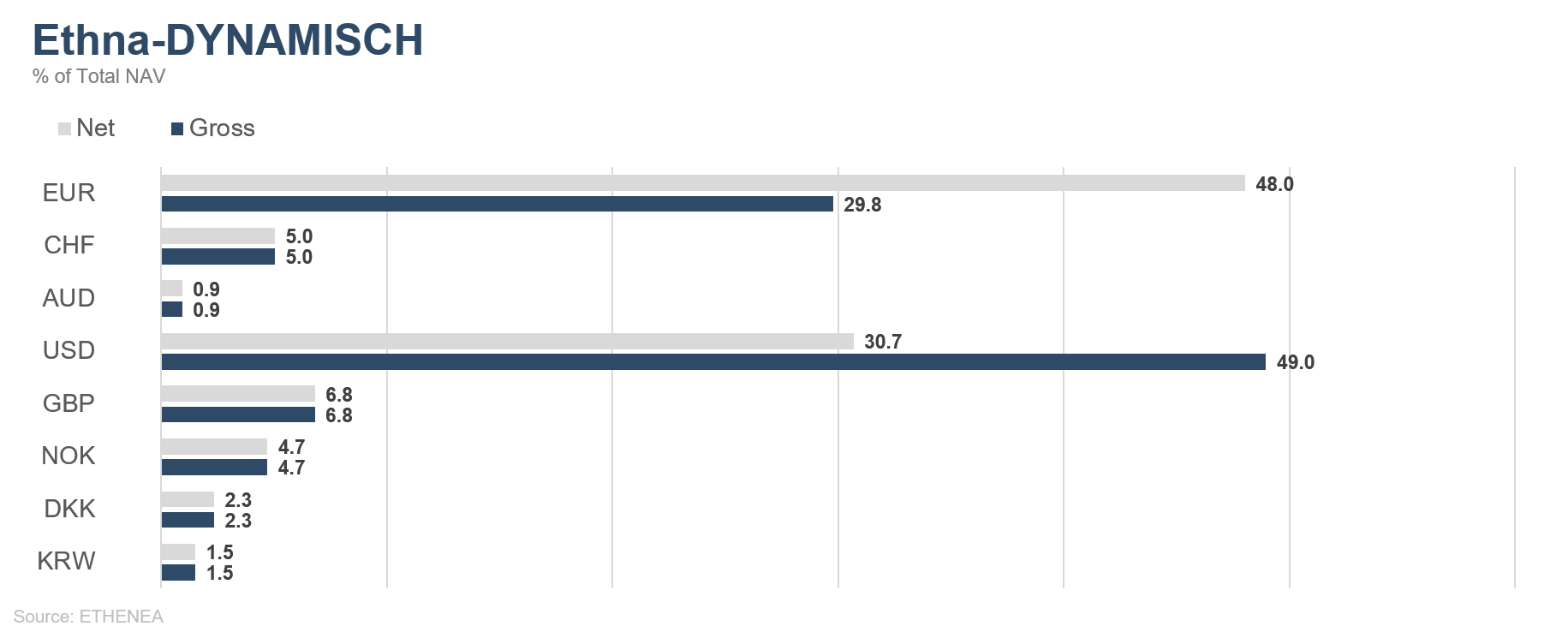 Figure 7: Portfolio composition of the Ethna-DYNAMISCH by currency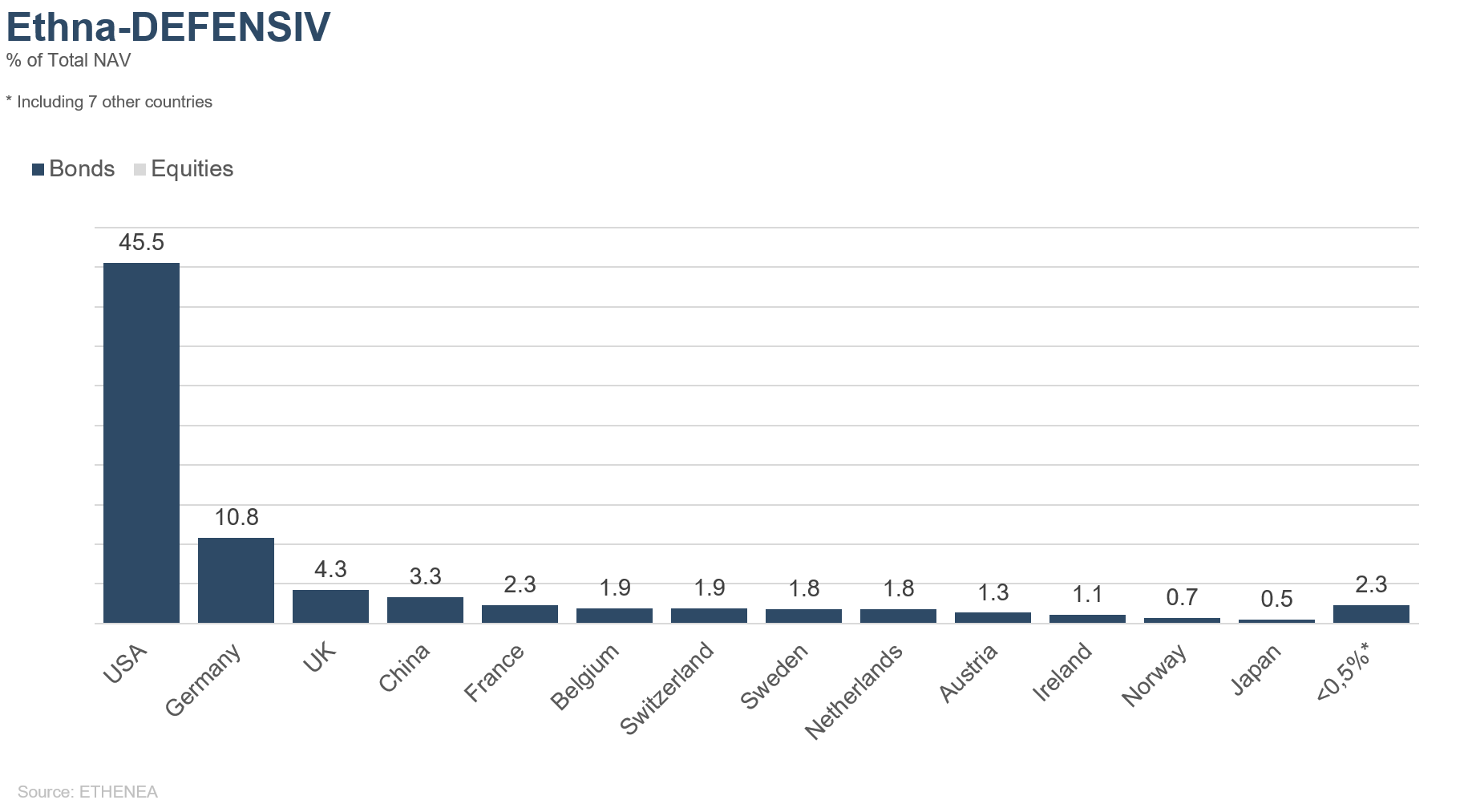 Figure 8: Portfolio composition of the Ethna-DEFENSIV by country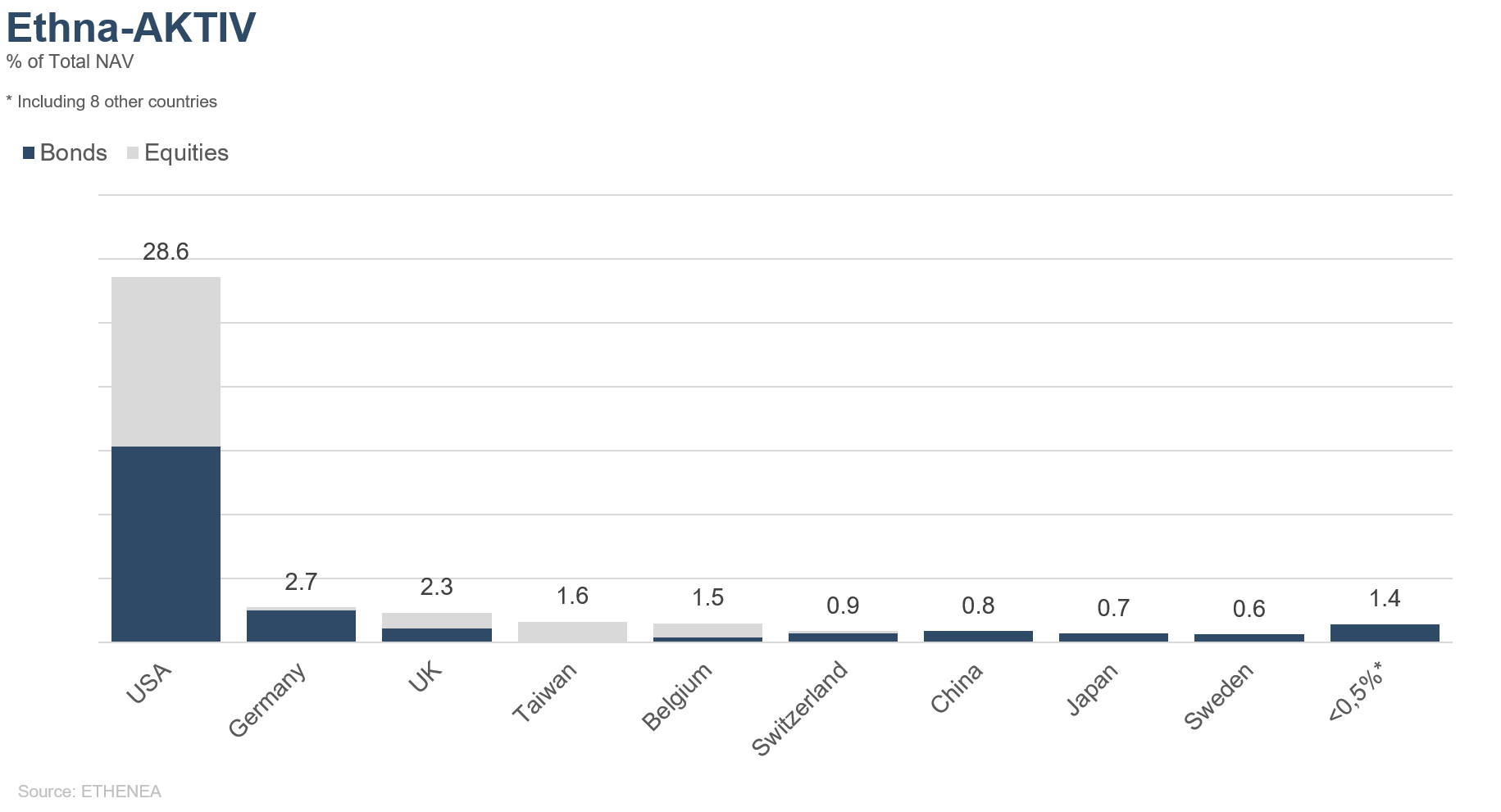 Figure 9: Portfolio composition of the Ethna-AKTIV by country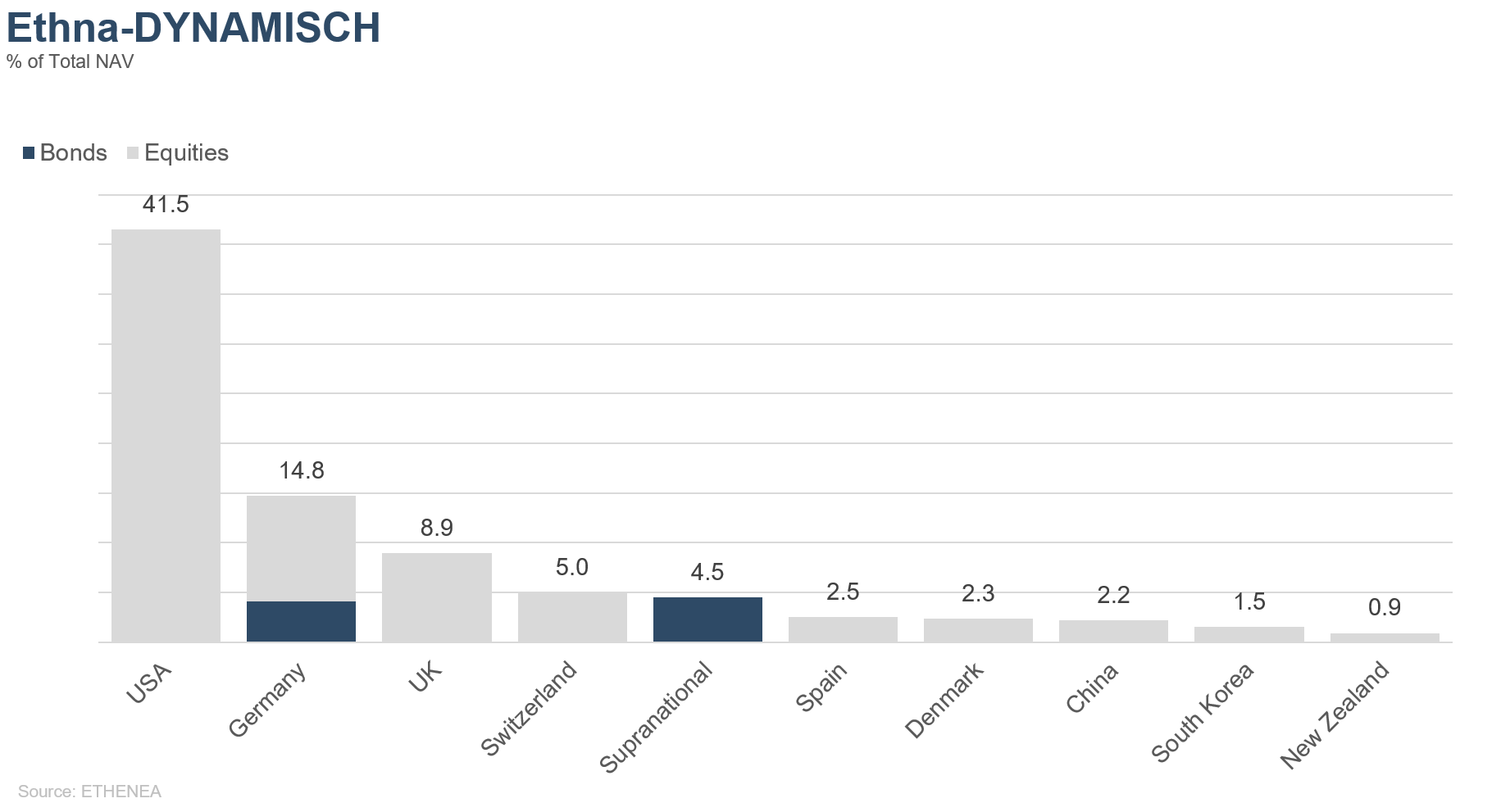 Figure 10: Portfolio composition of the Ethna-DYNAMISCH by country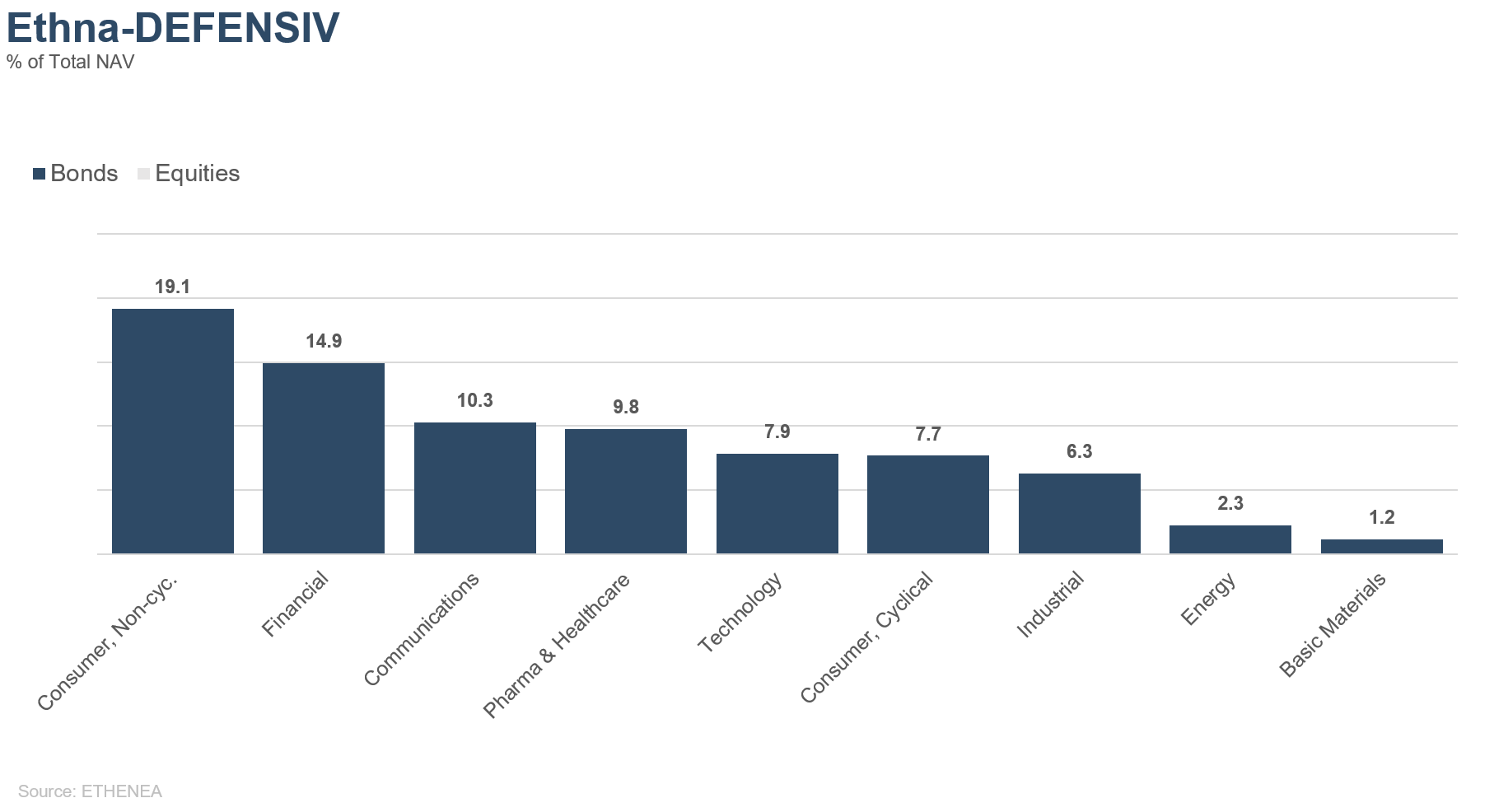 Figure 11: Portfolio composition of the Ethna-DEFENSIV by issuer sector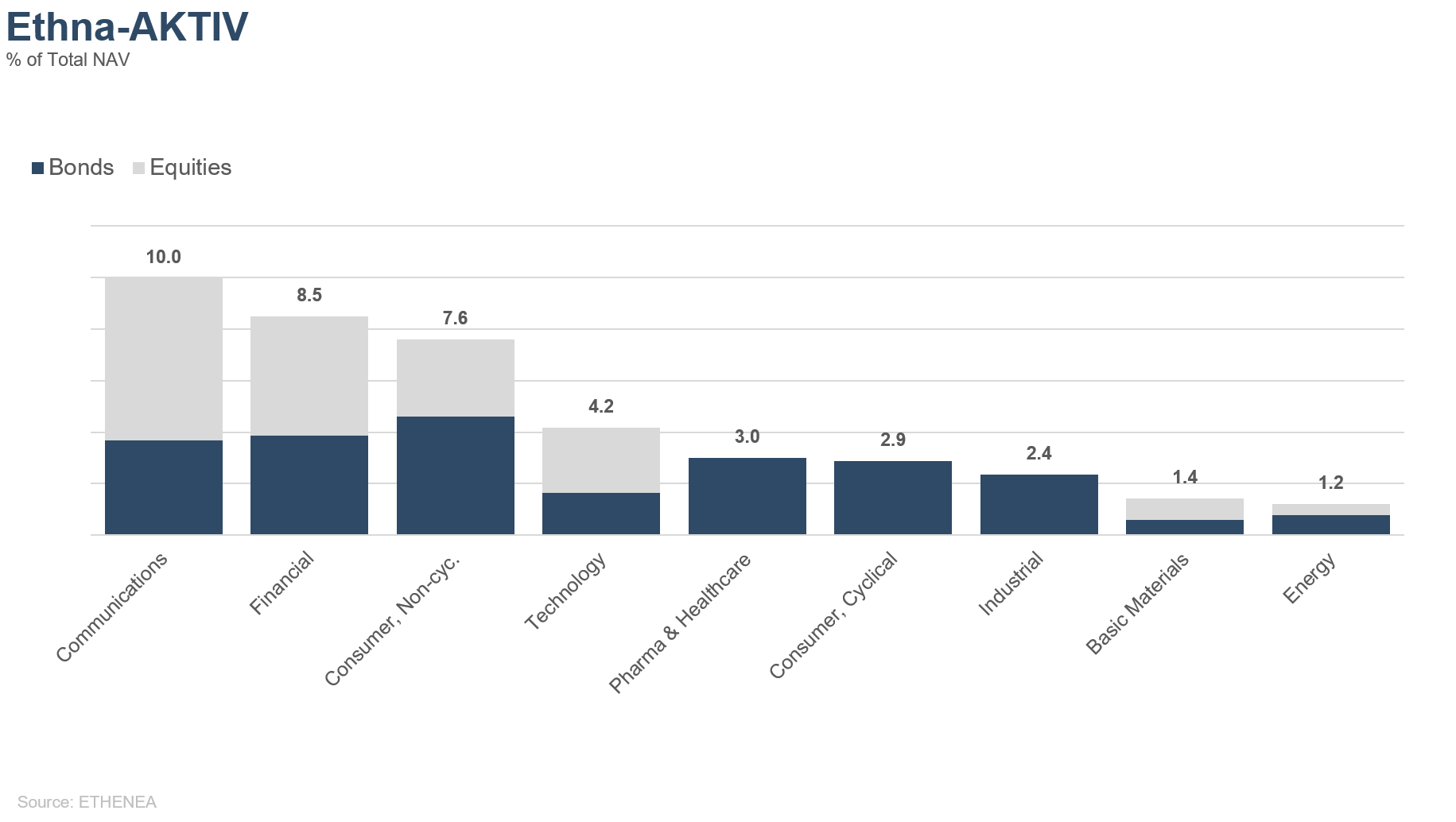 Figure 12: Portfolio composition of the Ethna-AKTIV by issuer sector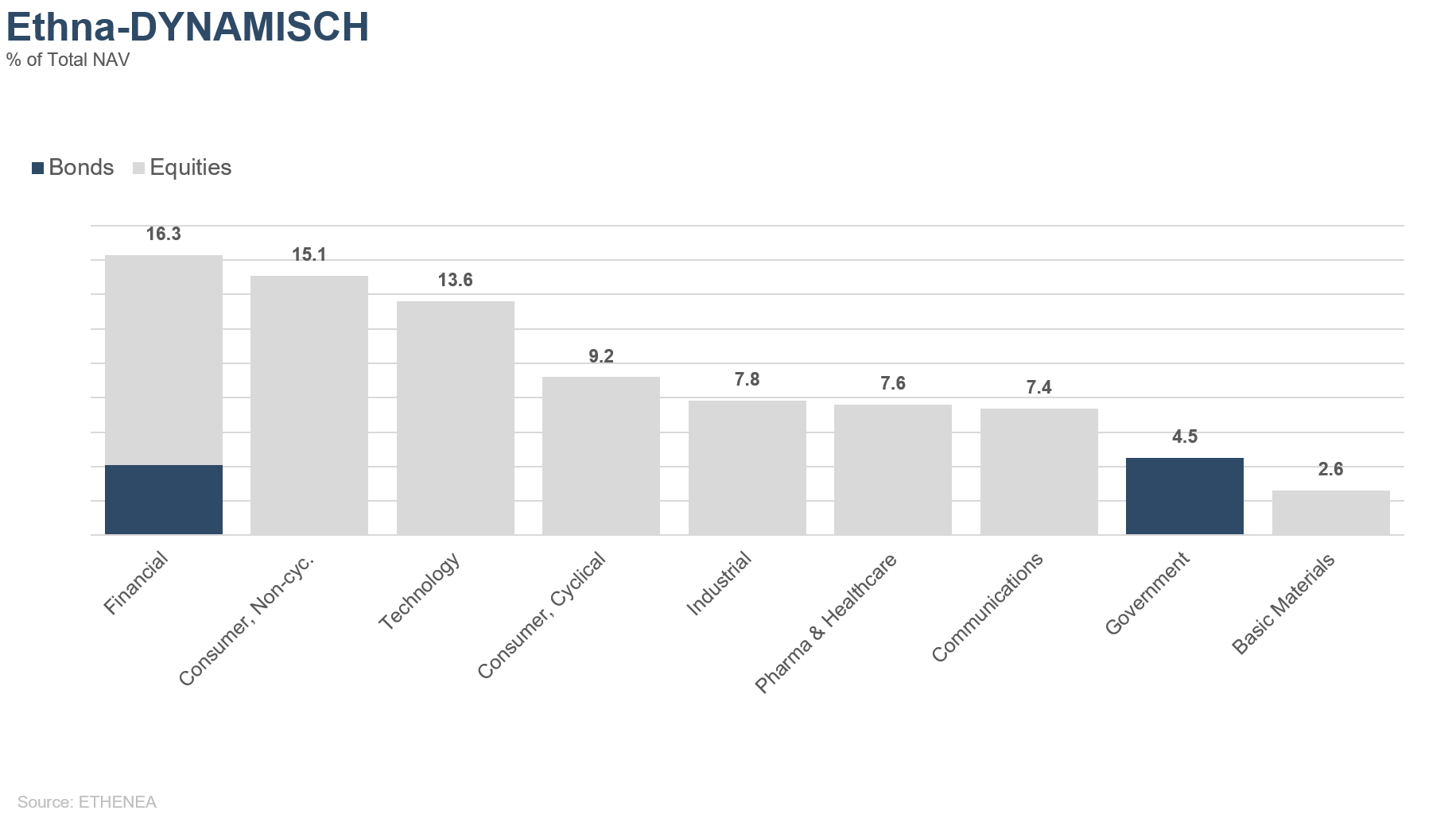 Figure 13: Portfolio composition of the Ethna-DYNAMISCH by issuer sector
* "Cash" comprises term deposits, call money and current accounts/other accounts. "Equities net" comprises direct investments and exposure resulting from equity derivatives.
Please contact us at any time if you have questions or suggestions.
ETHENEA Independent Investors S.A.
16, rue Gabriel Lippmann · 5365 Munsbach
Phone +352 276 921-0 · Fax +352 276 921-1099
info@ethenea.com · ethenea.com
Copyright © ETHENEA Independent Investors S.A. (2021) All rights reserved. This marketing material is for product information purposes only and is not a mandatory statutory or regulatory document. The information contained in this document does not constitute a solicitation, offer or recommendation to buy or sell units in the fund or to engage in any other transaction. It is intended solely to provide the reader with an understanding of the key features of the fund, such as the investment process, and is not deemed, either in whole or in part, to be an investment recommendation. The information provided is not a substitute for the reader's own deliberations or for any other legal, tax or financial information and advice. Neither the investment company nor its employees or Directors can be held liable for losses incurred directly or indirectly through the use of the contents of this document or in any other connection with this document. The currently valid sales documents in German (sales prospectus, KIIDs and, in addition, the semi-annual and annual reports), which provide detailed information about the purchase of units in the fund and the associated opportunities and risks, form the sole legal basis for the purchase of units. The aforementioned sales documents in German (as well as in unofficial translations in other languages) can be found at www.ethenea.com and are available free of charge from the investment company ETHENEA Independent Investors S.A. and the custodian bank, as well as from the respective national paying or information agents and from the representative in Switzerland. These are: Austria: ERSTE BANK DER OESTERREICHISCHEN SPARKASSEN AG, Am Belvedere 1, A-1100 Wien; Belgium CACEIS Belgium SA/NV, Avenue du Port / Havenlaan 86C b 320, B-1000 Brussels; DEUTSCHE BANK AG, Brussels branch, Marnixlaan 17, B-1000 Brussels; France: CACEIS Bank France, 1-3 place Valhubert, F-75013 Paris; Germany: DZ BANK AG, Deutsche Zentral-Genossenschaftsbank, Frankfurt am Main, Platz der Republik, D-60265 Frankfurt am Main; Italy: State Street Bank S.p.A., Via Ferrante Aporti, 10, IT-20125 Milan; Lichtenstein: SIGMA BANK AG, Feldkircher Strasse 2, FL-9494 Schaan; Luxembourg: DZ PRIVATBANK S.A., 4, rue Thomas Edison, L-1445 Strassen, Luxembourg; Portugal: Abanca Corporación Bancaria, S.A., Sucursal em Portugal, Rua Castilho, 20, 1250-069 Lisboa; Spain: Capital Strategies Partners, A.V., S.A., Paseo de La Castellana, 178, 3 izda. ES-28046 Madrid; ALLFUNDS BANK, S.A., C/ stafeta, 6 (la Moraleja), Edificio 3 – Complejo Plaza de la Fuente, ES-28109 Alcobendas (Madrid); Switzerland: Vertreterin: IPConcept (Schweiz) AG, Münsterhof 12, Postfach, CH-8022 Zürich, Paying Agent: DZ PRIVATBANK (Schweiz) AG, Münsterhof 12, CH-8022 Zürich. The investment company may terminate existing distribution agreements with third parties or withdraw distribution licences for strategic or statutory reasons, subject to compliance with any deadlines. Investors can obtain information about their rights from the website www.ethenea.com and from the sales prospectus. The information is available in both German and English, as well as in other languages in individual cases. Producer: ETHENEA Independent Investors S.A.. This document and the information contained herein are intended solely for professional clients or eligible counterparties within the meaning of Directive 2014/65/EU on Markets in Financial Instruments (MiFID II). No distribution to retail clients within the meaning of MiFID II is permitted and shall not form the basis of their investment decisions. Distribution of this document to persons domiciled in countries in which the fund is not authorised for distribution, or in which authorisation for distribution is required, is prohibited. Units may only be offered to persons in such countries if this offer is in accordance with the applicable legal provisions and it is ensured that the distribution and publication of this document, as well as an offer or sale of units, is not subject to any restrictions in the respective jurisdiction. In particular, the fund is not offered in the United States of America or to US persons (within the meaning of Rule 902 of Regulation S of the U.S. Securities Act of 1933, in its current version) or persons acting on their behalf, on their account or for the benefit of a US person. Past performance should not be taken as an indication or guarantee of future performance. Fluctuations in the value of the underlying financial instruments or their returns, as well as changes in interest rates and currency exchange rates, mean that the value of units in a fund, as well as the returns derived from them, may fall as well as rise and are not guaranteed. The valuations contained herein are based on a number of factors, including, but not limited to, current prices, estimates of the value of the underlying assets and market liquidity, as well as other assumptions and publicly available information. In principle, prices, values, and returns can both rise and fall, up to and including the total loss of the capital invested, and assumptions and information are subject to change without prior notice. The value of the invested capital or the price of fund units, as well as the resulting returns and distribution amounts, are subject to fluctuations or may cease altogether. Positive performance in the past is therefore no guarantee of positive performance in the future. In particular, the preservation of the invested capital cannot be guaranteed; there is therefore no warranty given that the value of the invested capital or the fund units held will correspond to the originally invested capital in the event of a sale or redemption. Investments in foreign currencies are subject to additional exchange rate fluctuations or currency risks, i.e. the performance of such investments also depends on the volatility of the foreign currency, which may have a negative impact on the value of the invested capital. Holdings and allocations are subject to change. The management and custodian fees, as well as all other costs charged to the fund in accordance with the contractual provisions, are included in the calculation. The performance calculation is based on the BVI (German federal association for investment and asset management) method, i.e. an issuing charge, transaction costs (such as order fees and brokerage fees), as well as custodian and other management fees are not included in the calculation. The investment performance would be lower if the issuing surcharge were taken into account. No guarantee can be given that the market forecasts will be achieved. Any discussion of risks in this publication should not be considered a disclosure of all risks or a conclusive handling of the risks mentioned. Explicit reference is made to the detailed risk descriptions in the sales prospectus. No guarantee can be given that the information is correct, complete or up to date. The content and information are subject to copyright protection. No guarantee can be given that the document complies with all statutory or regulatory requirements which countries other than Luxembourg have defined for it. Note: The most important technical terms can be found in the glossary at www.ethenea.com/glossary/. Information for investors in Switzerland: The country of origin of the collective investment scheme is Luxembourg. The representative in Switzerland is IPConcept (Schweiz) AG, Münsterhof 12, P.O. Box, CH-8022 Zurich. The paying agent in Switzerland is DZ PRIVATBANK (Schweiz) AG, Münsterhof 12, CH-8022 Zurich. The prospectus, the Key Investor Information Document (KIID), and the Articles of Association, as well as the annual and semi-annual reports, can be obtained free of charge from the representative. Munsbach, 03/08/2021